As Facebook grows and introduces many new features, users may feel overwhelmed by the notifications they receive. If they feel too annoyed by some notifications they find irrelevant, they may turn off all push notifications and end up no longer receiving notifications they do care about. We set out to solve this issue for users with a two pronged approach:

1) Keep improving our machine learning systems to better target and time notifications

2) Give users more flexibility in deciding when and where they receive notifications and what types.

For the latter, our current system, a web view created many years ago, simply couldn't address these needs, so this led to an initiative to redesign and improve our notification settings.
From our own intuition, which was validated by user research, we believed categorization would play the most important part in customizing notifications. It became clear that users have categorized Facebook notifications in their own way. To categorize, we looked at our most common notifications sent by reach and also asking users in research sessions to categorize their own notifications.

Strategically, a thorough categorization is also important for scaling as teams across Facebook add new notification types. That way, as new categories are added, there is already a systematic, familiar way for users to control them.
Do Not Disturb
Not every moment is the right time to be interrupted, so we built a "Do Not Disturb" feature to mute notifications for a duration set by the user.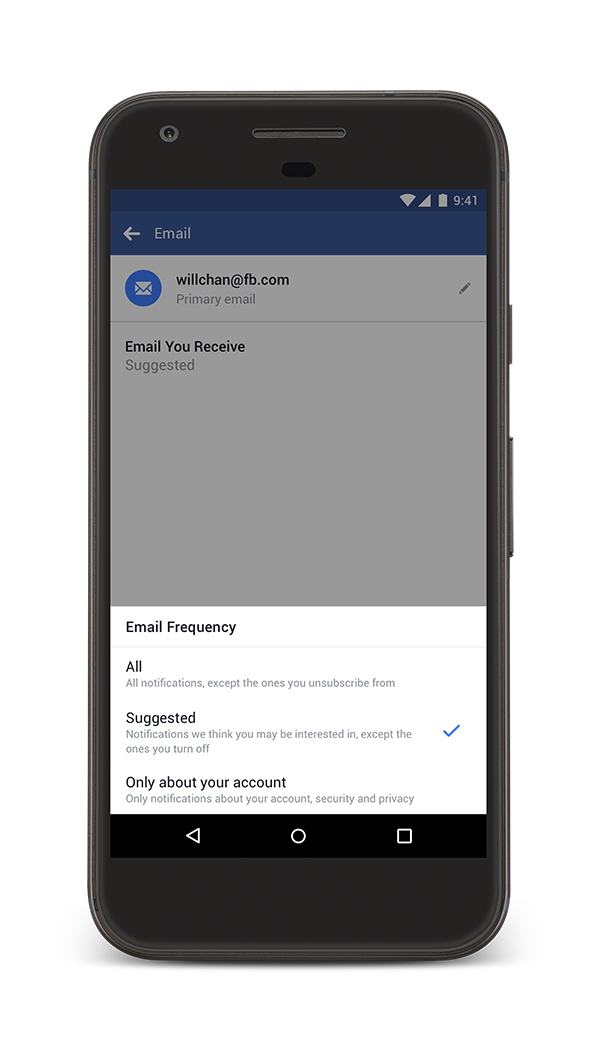 Email Frequency
For email and SMS channels, adjusting frequency of notifications is easier and with clearer language.
Add/Edit Contact Information
Adding or removing contact information can now be done within notifications settings instead of being taken to a different flow.